Posted
10/06/2011 by Didier
in Comics
Rock de pannen van het dak met je favoriete Marvel Superheroes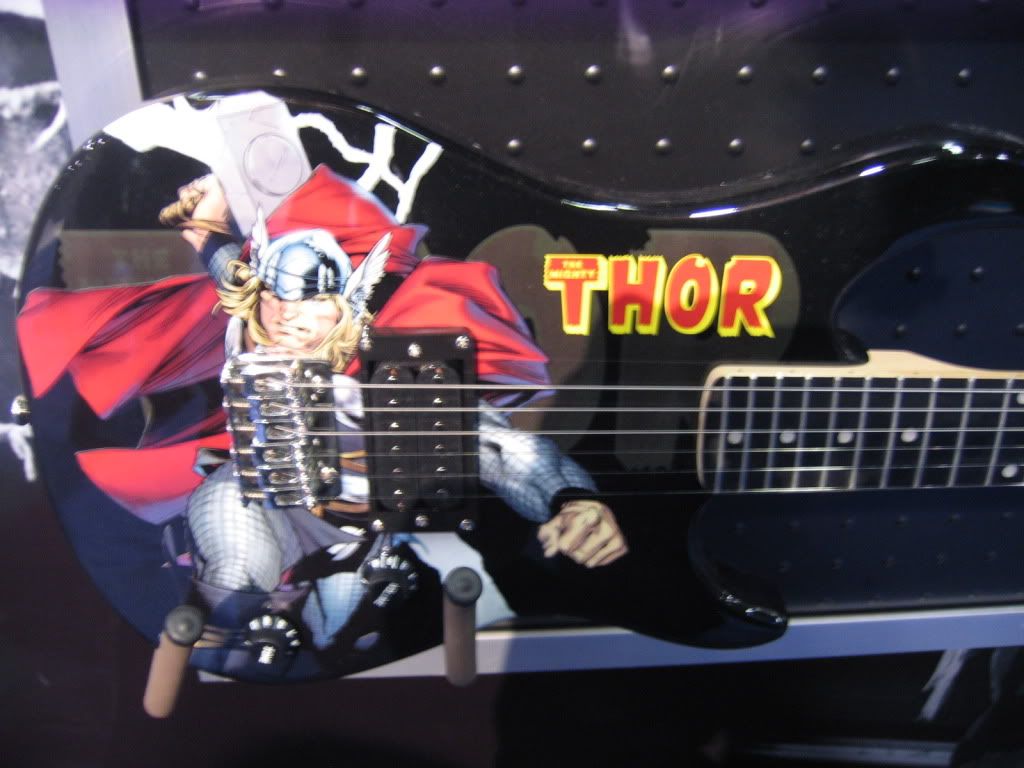 Goed nieuws voor de muzikale comic-lezers! Peavey, één van de grootste producenten van muziekinstrumenten en professionele geluidsapparatuur, heeft aangekondigd dat ze samen met Marvel Entertainment een nieuwe lijn van instrumenten zullen lanceren.
Heb je het gevoel dat je al een tijdje niet meer vooruit gaat als muzikant? Laat dan binnenkort je niveau een stapje hoger getild worden door je favoriete Marvel Superheroes.
Captain America, Thor, Wolverine, The X-Men, Spider-Man, Iron Man en The Incredible Hulk… ze zullen allemaal vertegenwoordigd worden door middel van highly detailed artwork op verschillende gitaren, percussie instrumenten en accessoires.
Deze samenwerking wordt in de zomer van 2011 leven ingeblazen met de lancering van een half-size akoestische gitaar, een three-quarter elektrische gitaar en de full-size Peavey Rockmaster elektrische gitaar. Uiteraard allemaal bedrukt met verschillende Marvel Artwork. Daarnaast zullen er ook plectrums en straps verschijnen met o.a. opdrukken van Ghostrider en The Punisher.
Wat denk ik hier nu zelf van als comic-lezer en gitarist? Het is duidelijk dat Peavey zich voornamelijk richt op het jongere doelpubliek, want er zal maar één full-sized gitaar verschijnen. Verder zijn er ook nog geen richtprijzen bekend, dus de kans is groot dat het stuk voor stuk budget-gitaren worden, met als toevoeging een leuke print.  Deze gitaren zullen je geen instant Guitar Hero maken, maar het is wel de ideale manier om je kinderen al van jongs af aan in contact te brengen met twee van de leukste zaken ter wereld, muziek en comics!
Comments
comments