Posted
06/03/2011 by Timaeus
in Comics
Update: Batman, het verhaal gelekt?
Over het derde luik in de Batmanfilms onder leiding van Christopher Nolan is al veel en tegelijkertijd ook weinig geschreven. Rond de casting zijn al veel geruchten de ronde gegaan, maar tevens zijn er ook al veel rollen ingevuld. Waar er qua casting en personages dus veel transparantie is, worden er bij het verhaal op Riddlerwijze enorm veel vraagtekens geplaatst. De website Batman-on-film probeert op Spoilereske wijze toch wat van deze verhalen en raadsels op te lossen zodat we ons een beeld kunnen vormen van hoe de film er mogelijk uit gaat zien. Ik hoef niet te vermelden dat er mogelijke spoilers volgen want dit zou reeds duidelijk moeten zijn.
De props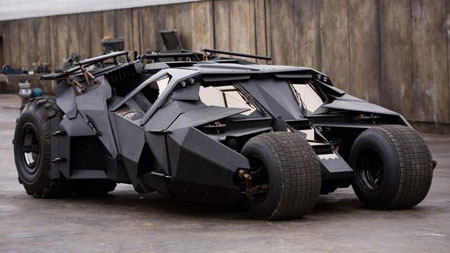 Vooraleer ik begin met de verhaallijnen uit de doeken te doen, blijf ik toch even stilstaan bij een merkwaardig bericht. In de Batman films is er altijd al een zware nadruk geweest op de verscheidene voertuigen. In Batman Begins hadden we de Tumbler, alias Batmobile, een tank van militaire oorsprong die Batman gebruikte om snel in actie te kunnen schieten en tevens niet geremd te zijn door wat de villains ook op zijn pad gooiden. In de volgende film The Dark Knight moest deze Batmobile echter plaats ruimen voor de Batpod, een motorachtig voertuig dat deel was van de voornoemde Batmobile. De intrede van de Batpod ging gepaard met de vernietiging van de Batmobile en het verdwijnen van een incarnatie van dit voertuig in de filmreeks. In de traditie van de vorige films zou Christopher Nolan ditmaal opteren voor een voertuig dat zich door de lucht begeeft naast de landvoertuigen. Of dit een Batwing is zoals in Batman en Batman: Forever of eerder een Batcopter weet voorlopig niemand. Dit voertuig zou kaderen in de vele locaties ter wereld die Batman zou bezoeken in de volgende film, net zoals hij in TDK Hong Kong bezocht. Er zou ook sprake zijn van een nieuwe Batmobile om de oude te vervangen maar over welke vorm deze zou aannemen is nog niks bekend. Laat ons hopen dat dit voertuigenpark niet de esthetische kwaliteiten zal aannemen van de Joel Schumacherfilms, maar trouw blijft aan de stijl die Nolan in zijn eerste twee films heeft gezet. Toch zou het maar vreemd zijn als de Caped Crusader in een Harriet jet of een Apache helikopter op criminelen zou jagen. Desondanks zou hij toch schrik in hun harten brengen, iets beter dan met vleermuizen en stukken metaal.
Het verhaal
Volgens enkele zinnetjes bij de casting, interviews met de acteurs en ook enkele details van bepaalde websites kan je toch een vrij samenhangende synopsis samenstellen. De film zou de draad oppikken waar hij die liet liggen na The Dark Knight. Batman heeft een einde gebracht aan de grootste vormen van criminaliteit en is daarop verdwenen uit het heldenleven. Waar hij verdween, verscheen een nieuwe speler: Selena Kyle alias Catwoman. Catwoman zal de film aanvatten als een villain maar zal naarmate het plot vordert van affiliatie veranderen. De grote verhaallijn wordt echter een dieper uitwerken van de verhaallijnen die in Batman Begins werden geëxploreerd. De League of Shadows zal terugkeren met aan het hoofd niet meer Liam Neeson als Ra's himself, maar mogelijk Marion Cotillard als diens dochter Talia Al'Ghul. Talia zal een team vormen met Bane, vertolkt door Tom Hardy en deze twee zullen een romantische band met elkaar hebben. Wat echter heel belangrijk om weten is, is dat Bruce een tijdje bij de League of Shadows heeft getraind en ze zodoende zijn geheime identiteit kennen wat een twist à la Knightfall wel heel mogelijk maakt. Ook kan een mogelijke relatie tussen Bruce en Talia worden uitgespeeld door een flashback naar de training van Bruce. Over hoe Joseph Gordon-Levitt hierin past, is voorlopig nog geen duidelijkheid.
Mijn visie hierop is dat er in de voorlopige verhaallijnen genoeg stof zit om er opnieuw een pareltje van te maken. Natuurlijk was er bij the Dark Knight de glansprestatie van Heath Ledger als the Joker, maar deze derde film heeft het potentieel om verhaalsgewijs zeker boven het qua verhaal iets te lichte plot uit te stijgen en niet te teren op prachtige acteerprestaties ook. Als Nolan opnieuw zijn toverstokje kan bovenhalen en de verscheidene elementen die Schumacher zo lachwekkend maakten, kan ombuigen tot een echte, realistische stijl dan mag iedere Batfan gerust zijn en volgend jaar genieten van een geslaagd, mogelijk sluitstuk aan de films die de Batmanfranchise nieuw leven inbliezen.
Comments
comments