Spotlight : Rex Mundi
Rex Mundi TP #1 – 3
Arvid Nelson (Writer),
Juan Ferreyra (Artist)
Dark Horse (eerst bij Image)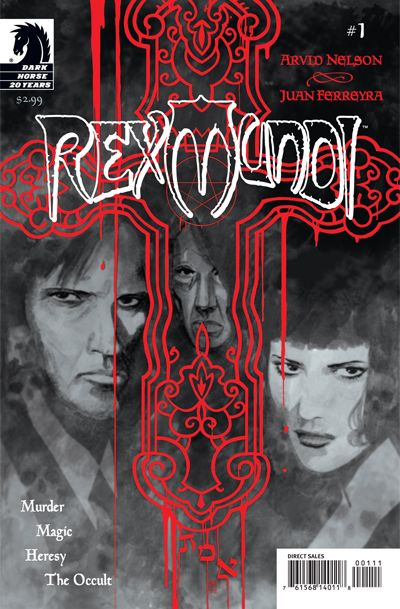 Rex Mundi wilt eigenlijk zeggen "Koning van de wereld".Het verhaal speelt zich af in een alternatieve tijdslijn, waar magie een "volwaardig" beroep is dat zijn vertegenwoordiging kent dmv zijn Gilde.De Kerk houdt Europa in ijzeren greep waarbij de "Inquistie" alom bevreesd is. Alles begint met een moord mysterie op een priester die belangrijke kerkelijk manuscripten bewaard. Smijt daar bovenop nog eens een variant van de "Free Masonry" en politieke machtspellekes en al gauw wordt er dan vergeleken met "De Davinci Code". Zeker als je weet dat ze op zoek gaan naar de Holy Grail. Ik sluit me volledig aan bij de schrijver die hetvolgende antwoord in een interview op Jazma Online:
Q:"Would you compare Rex Mundi to the DaVinci Code?"
A:"I guess I have to. I first published Rex Mundi in 1999, four yearsbefore DaVinci Code. Oh well! I'd like to think Rex Mundi is a littlebit more interesting and in-depth than DaVinci Code. DaVinci Code, as Isee it, is just a schmaltzy re-hashing of Holy Blood, Holy Grail. I'dlike to think Rex Mundi begins where Holy Blood Holy Grail ends. Forthose who don't know, Holy Blood Holy Grail was the firstEnglish-language book that proposed the theory of the bloodline ofChrist. It was published in the 80s and is a major inspiration for TheDaVinci Code and Rex Mundi."
Er zit genoeg materiaal in het geheel veel spannender te maken. De schrijver brengt met krantenartikels aanzienlijk meer diepgang in het verhaal. Alan Moore bedacht deze formule voor het eerst in "Watchmen" en deed dit onder andere nog eens over in "League of Extraordinary Gentlemen". Hij zorgt ervoor dat het niveau boven de zoveelste in zijn genre ligt. Nog een belangrijk positief punt aan de serie is dat er een einde gepland is, momenteel zitten ze aan deel 24 en bij 36 zijn het afgerond moeten zijn.
Wil je ervan overtuigen dat het iets voor jou is, lees dan de online preview of lees meer op hun site.
Comments
comments