Spotlight : Buffy the Vampire Slayer Season 8
In 2003 werd het laatste en zevende seizoen van Buffy the Vampire Slayer uitgezonden. Maar de schrijvers van de serie zijn niet bij de pakken blijven zitten. En schakelen over naar een ander medium, de Comics. In Buffy the Vampire Slayer Season 8 gaat de comic verder waar de TV-serie eindigde. Joss Whedon schrijft de nieuwe afleveringen. TVGuide.com heeft Joss even aan de tand gevoeld. Het interview kan je HIER lezen.
De Hellmouth is vernietigd, de Slayers zijn nu deftig georganiseerd en vernietigen undead op grote schaal. Maar niet alles loopt van een leien dakje als een oude vijand terug komt en Dawn plots problemen krijgt. Meer krijg je niet, wil je toch meer kan je enkele pagina's lezen van Buffy the Vampire Slayer Season 8 door op de cover te klikken.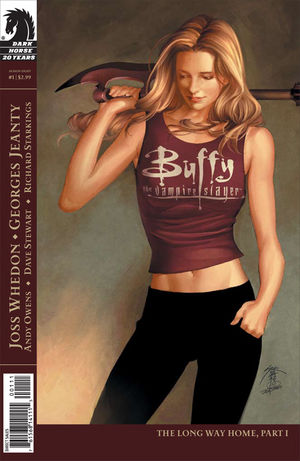 Denk jij dat er een comic is die iedereen moet lezen, stuur dan gerust een review over je favoriete comic en wie weet staat hier binnenkort jouw review in de nieuwe rubriek spotlight. In Spotlight belichten we een niet-mainstream comic, een verdoken diamant bijwijze van spreken.
Comments
comments